September 20 — 30, 2024
A 10-day immersion class with Mihai Coman held at the famous Putna Monastery, Romania
Please join the list to be placed on pre-reservation to receive the option to register first: PRE-REGISTRATION FORM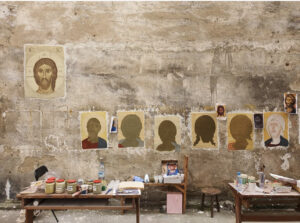 This unique course is a rare immersion in learning the ancient techniques of Buon Fresco wall painting while staying in one of the most famous monasteries in Romania.  The Putna Monastery is well-known in all of Europe as an important spiritual, historical and cultural landmark.
Along with the residency instruction will be various excursions to see and gain exposure to the current work of contemporary iconographers of the local region as well as visits to see nearby ancient churches and many examples of Romanian sacred art.  The active observation of various iconographers as they work on current church projects is a special additional learning benefit to the workshop.
Participants will live in a simple monastic setting, explore various local churches and receive training on how to draw and paint on a large scale using the ancient Buon Fresco painting technique.
Specifically the course will cover:
Painting as an organic part of the temple – the relationship of Iconographic themes and architectural forms with the temple as a holistic synthesis in a reference to Divine Liturgy.
Drawing on a large scale. Participants will draw with charcoal on large scale paper both faces and a small composition.
Painting a large scale face of Christ Pantocrator using the Buon Fresco technique.
Other various drawing exercises and compositions based on the onsite and local church examples.
An in-depth look at materials and various techniques of wall-painting with considerations between ancient and contemporary church painting.
The daily schedule will allow ample free time and also encourage independent drawing inspired from various churches or on independent themes for a retreat-style experience with a balance of instructor feedback and oversight.  The hands-on workshop will average 4 – 5 hours daily of direct instruction in large-scale drawing and Buon Fresco painting from Mihai Coman balanced with the excursions to various important churches, galleries and museums.  Beginners to advanced iconographers welcomed.  Learn more about instructor Mihai Coman here.
A maximum of 16 people can be accepted into this program.
Students must bring their own brushes for wall painting (list to be provided), pencils, erasers, a sketch pad.
All pigments, lyme and mediums for Buon Fresco painting will be provided.
Tuition Cost: TBA (this information will be shared by Oct. 1st and will be relative to the cost of the Summer School)
Monastery Lodging and Meal Cost: TBA (this information will be shared around Oct. 1st) — which will include option for modest lodging (shared or single) as well as three meals a day and excursion cost.  The lodging is clean and basic and a simple, monastic attitude will be good to bring along. 
TO REGISTER:
Please fill out the basic form (through the red registration button) and we will automatically place you on the interested list. You will then be notified with the full information as well as first option to proceed to registration deposit when open.
Once Registration is open, students on the list will be notified and billed through PayPal by Cinnabar.  
Please note that once payment is made and should you need to withdraw, we will refund your balance minus the deposit amount until one month before the start date.  Any withdrawals from less than one month onwards will be subject to only a refund of 50% of the tuition (minus the deposit) being returned. Thank you for your understanding. 
Any questions can be discussed by contacting Keri at info.writingthelight@gmail.com.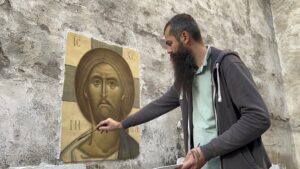 DAILY WORKSHOP SCHEDULE: 
The full agenda will be shared with when Registration formally opens.
Please email Keri at info.writingthelight@gmail.com if you have any immediate questions.